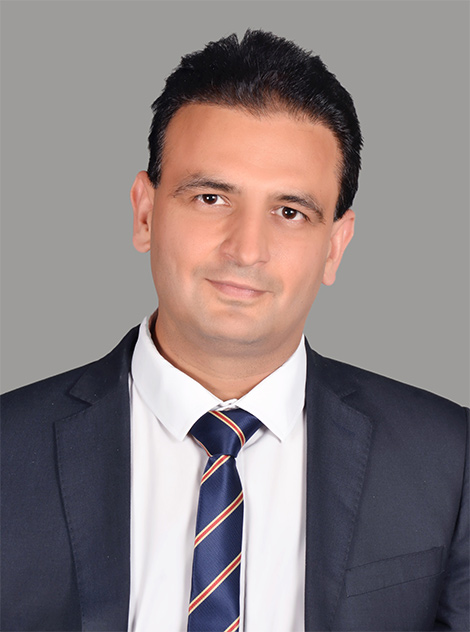 Mr. Manav Raghuvanshi
Consultant Orthopaedic Surgeon
Hip, Knee & Trauma Specialist
Mr Manav Raghuvanshi is a consultant orthopaedic surgeon in Chelmsford, Essex specialising in hip and knee replacements.
Clinical Interests
Knees: Durolane injection, knee arthroscopy, partial knee replacement (oxford and patello-femoral), total knee replacement including revision, trauma and general knee surgery
Hips: Hip injections, total hip replacement, revision hip replacement, trauma and general hip surgery
Academic Background
Qualifications
Mr Raghuvanshi completed his training in Severn Deanery (Bristol) between 2006 and 2011. After completing FRCS and EBOT (European Board Fellowship exam in Orthopaedics and Trauma) he did a Fellowship in Advanced Trauma Techniques at Morriston Hospital, Swansea under the supervision of Prof Pallister. After a stint as Locum Trauma Consultant first at Swansea and then at John Radcliffe Hospital, Oxford he went onto an elective fellowship (lower limb arthroplasty) at Bournemouth.
He joined Broomfield Hospital in July 2015 where he continues to provide trauma and lower limb arthroplasty services as a full time NHS Consultant.
Mr Raghuvanshi has been an invited faculty at various national and international courses and conferences. He actively particiaptes in teaching of next generation of orthopaedic surgeons and is named trainer for a deanery trainee on a rotation programme.
Mr Raghuvanshi has a special interest in partial knee replacements and he performs both fixed and mobile bearing partial knee replacements. He also takes keen interest in complex hip and knee replacements and revision surgery. His Trauma fellowship has helped him gain a unique perspective in dealing with periprosthetic fracture around hip and knee replacements. He also works closely with plastic surgeons based at Broomfield Hospital in managing prosthetic joint infections.
He works very closely with other hip and knee surgeons based in Essex and collaborates with other health care workers like Physiotherapists, Radiologist, Rheumatologists, Pain Specialist and GP's to get the best outcome for the patients.
MBBS

Univ of Rajasthan, Jaipur, India 2000

MSOrth

Univ of Rajasthan, Jaipur, India 2003
MRCSEd

Royal College of Surgeons, Edinburgh 2005

FEBOT

European Board of Orthopaedics and Traumatology 2012
FRCS(Tr&Orth)

Intercollegiate Board, UK 2012

Education

Coming Soon
Mr. Manav Raghuvanshi
Springfield Hospital

Lawn Lane
Chelmsford, Essex CM1 7GU